Press Releases 2023
Transmission of antibiotic-resistant tuberculosis bacteria in the hospital.
Details

02.05.2023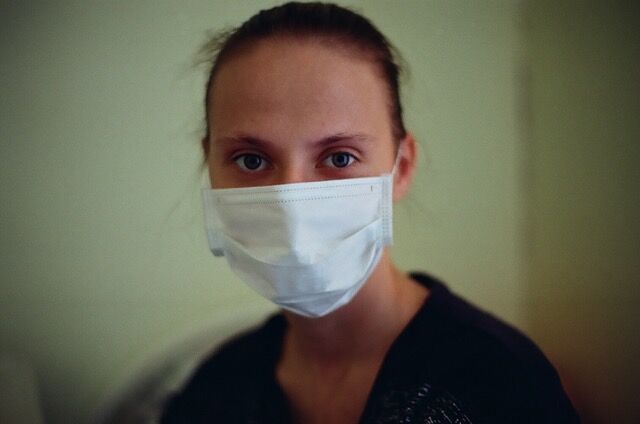 When the two most effective drugs, rifampicin and isoniazid, are no longer effective against tuberculosis bacteria, the disease is called multidrug-resistant tuberculosis (MDR-TB). Patients affected by MDR-TB have poor chances of recovery. How did they become infected? They were almost always in the wrong place at the wrong time and did nothing more than simply breathe. In doing so, they inhaled the antibiotic-resistant tuberculosis bacteria from the air that had previously been exhaled by patients with antibiotic-resistant pulmonary tuberculosis. For example, in the hospital, if there were patients with contagious pulmonary tuberculosis.
---
A team from the Borstel Research Center and the National Tuberculosis Hospital in Chisinau, the capital of the Republic of Moldova, found a few years ago that 5% (one patient in twenty) contracted MDR-TB while staying in the hospital there.
Reason enough to significantly improve hospital hygiene through better ventilation, wearing protective masks and UV irradiation of the air, and to take another closer look. For over a year, Ecaterina Noroc, a doctoral student at the National Tuberculosis Hospital in Chisinau, recorded every day which patient had slept in which bed, and which patient had shared a room and ward with others, for how long, who had been diagnosed with MDR-TB and who might have infected whom. Among nearly 2490 patients, there were also 307 with MDR-TB, including 41 who had initially been housed in the wrong ward for a total of 631 days and had not received adequate therapy. Enough opportunities to infect others in the absence of hygiene measures.
Over the next 2 years, all tuberculosis bacteria from new MDR-TB patients were examined from those patients who had been in the clinic during the first year and who did not have MDR-TB at that time.
Comparisons of the genetic makeup of the tuberculosis bacteria with the locations of the patients suggested that probably only 2 patients had contracted MDR-TB in the first year, significantly fewer than before the new hygiene measures were introduced. Results of the study were now published in the journal Emerging Infectious Diseases.
"The reduction in transmission of antibiotic-resistant tuberculosis bacteria in the hospital in Chisinau is a significant advance; however, many people in Moldova still become infected with antibiotic-resistant tuberculosis bacteria outside the hospital. For example, in the home environment, at the market or in the minibus on the way to work. More can be done here to prevent the transmission of the bacteria from sick people to healthy people," says Professor Christoph Lange, Medical Director at the Borstel Research Center and coordinator of the study. 
Reference:
Noroc E, Chesov D, Merker M, Groschel MI, Barilar I, Dreyer V, Ciobanu N, Reimann M, Crudu V, Lange C. Limited Nosocomial Transmission of Drug-Resistant Tuberculosis, Moldova. Emerg Infect Dis 2023: 29(5): 1046-1050.
 
Contact:
Prof. Dr. med. Dr. h.c. Christoph Lange 
Medical Director, Research Center Borstel, Leibniz Lungcenter 
Professor for Respiratory Medicine & International Health, Lübeck University
Parkallee 35
23845 Borstel
Germany

T +49 4537 188 3321/0
F +49 4537 188 6030
This email address is being protected from spambots. You need JavaScript enabled to view it.