Press Releases 2023
TBnet-Akademie: Next Generation Mentoring
Details

15.06.2023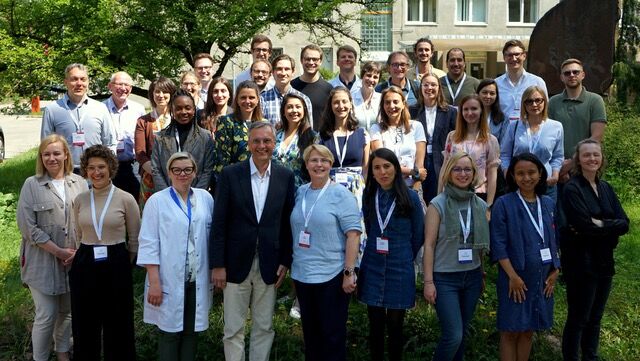 How to write a research proposal? How to get funded? How to give a winning presentation? How to write a manuscript? These are just four topics of the three and a half day TBnet Academy that was held this year from May 21-24 in Riga, Latvia.
It was the 9th TBnet Academy held in a country of the former Soviet Union since 2010. The goal is to provide young researchers in tuberculosis and non-tuberculosis mycobacterial diseases from all parts of Europe a platform to get to know each other and to continue knitting the net-work of TBnet.
TBnet was founded in 2006 at the Research Center Borstel as a non-for-profit non-governmental research organization. With more than 600 members across Europe and more than 80 peer reviewed scientific publications it is the largest non-governmental collaborative research organisation in this field across Europe.
The recipe is simple: Selecting a partner site; collecting funding; a call for applications; a competitive selection process for scholars to ensure high academic standards but also diversity in geographical representation, sex, and professional interest; providing free scholarships for participants and getting experienced mentors on board. Prior to the TBnet Academy four young participants from different thematic areas (epidemiology & prevention, diagnostics, treatment, NTM-diseases, pediatric mycobacterial infections) get to know each other on-line and prepare a state-of-the-art lecture under guidance of an experienced mentor. This way they are starting to collaborate already before the Academy has started and they are actively contributing to the program. Keynote lectures by experts in the field, mentoring sessions and practical elements, like a teaching ward round and a visit to a tuberculosis laboratory with hands-on experience complete the Academy program.
This year´s TBnet Academy was funded by the EU commission in the EU-IMI project UNITE4TB. It was hosted by the WHO collaborative center for drug-resistant tuberculosis at Riga East hospital and included scholars from Indonesia, Uganda and the USA in addition to those from 13 European countries.
"TBnet Academy is a unique event that has the potential to profoundly impact one's career. Over the course of three days, participants have the opportunity to connect with peers both on early stages of their careers and with established experts, engage in knowledge-sharing about tuberculosis, exchange research experiences and ideas, and potentially discover new collaborative projects or even career paths", says Irina Kontsevaya from the Research Center Borstel, mentor in the area of tuberculosis diagnostics in the TBnet Academy and member of the TBnet steering committee. "Furthermore, it is not only a great opportunity to get in contact and make friends with other young scientists, it is also a chance to share my enthusiasm about my research topic with others", adds Niklas Köhler from Borstel, one of the Keynote speakers.
Contact:
Prof. Dr. med. Dr. h.c. Christoph Lange 
Medizinischer Direktor, Forschungszentrum Borstel, Leibniz Lungenzentrum 
Professor für Respiratory Medicine & International Health, Universität zu Lübeck
Parkallee 35, 23845 Borstel
T +49 4537 188 3321/0
F +49 4537 188 6030
This email address is being protected from spambots. You need JavaScript enabled to view it.